I'm not one of those people who ever finishes their Christmas shopping early. Every year I vow to get better, but it only seems to get worse. I really enjoy
blogs that offer gift guides
because it means someone else has done the homework and I get to window shop in one convenient place. So far I've done more browsing than buying.
With all the economic hardships, I think a lot of people are scaling back and taking stock of what this season is supposed to mean. There's a movement to
Redefine Christmas
and push the idea of charitable giving.
My friend Max teaches 5th Grade students in the LA School District.
Max is growing a mustache for 30 days in an effort to win donor support for several of his colleage's classroom projects
. Donorschoose.org is actually a nifty organization. The site allows teachers to propose projects that YOU and others can bring to fruition with tax-deductable donations. I put some money into a couple of projects on Max's page, then quickly found myself searching around for more. What they say about giving feeling
good
is true! Plus, if you give $100 or whatever amount is needed to complete the funding on a project, you'll get thank you letters and photos from the classroom you helped!
Last year the
Buy Handmade
movement was all the rage (in the blogosphere anyway). Etsy.com seems to have come a long way since its inception. I love that site, but I often get lost wading through the choices. The one shop I never have to question belongs to
Lorigami
, one of my oldest internet friends. I've bought several pieces from her throughout the years and she continues to create the most lovely and magical things. Her eco-friendly, handmade items remind me of anthropologie, but at a fraction of the price.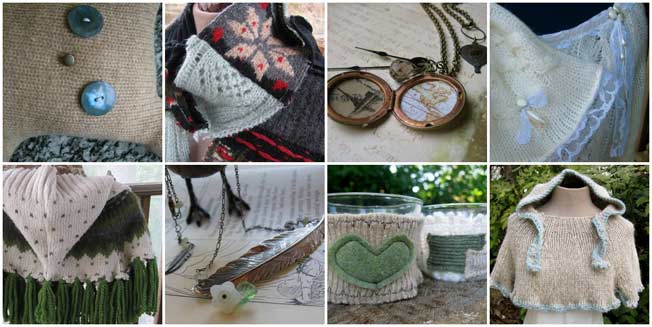 I'll end this post with a more commercial item because I received a coupon in the mail and while I'm not purchasing any this year, some of you might find it useful. I bought my friend a gift set from
Full Bloom Tea
several years ago and she absolutely loved the way the flowering teas unfurled their magic in the glass teapot. The items came in attractive brown and green boxes and when I tried some myself a few years later, it wasn't only delightful to watch, but the tea tasted quite nice as well. If you'd like to get free priority shipping on flowering tea, just use this code in your check out (until Dec 6):
free08
. It's really a great gift for anyone who enjoys science experiments or a nice cup of tea.